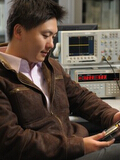 Dr. Ray C.C. Cheung
Associate Provost (DL), Professor, CALAS director
r.cheung@cityu.edu.hk
Dr. Ray C.C. Cheung received the BEng and MPhil degrees in computer engineering and computer science and engineering at the Chinese University of Hong Kong (CUHK), Hong Kong, in 1999 and 2001, respectively, and the PhD degree and DIC in computing at Imperial College London, London, United Kingdom, in 2007. After completing the PhD work, he received the Hong Kong Croucher Foundation Fellowship for his postdoctoral study in the Electrical Engineering Department, University of California, Los Angeles (UCLA). In 2009, he worked as a visiting research fellow in the Department of Electrical Engineering, Princeton University, Princeton, NJ. Currently, he is an associate professor in the Department of Electronic Engineering, City University of Hong Kong (CityU). He is the author of more than 150 journal and conference papers. His research team, CityU Architecture Lab for Arithmetic and Security (CALAS), focuses on the following research topics: reconfigurable trusted computing, applied cryptography, and high-performance biomedical VLSI designs. He is a member of the IEEE, past chairman of IEEE HK Section CAS/COM Chapter, past vice chairman of IEEE HK Section Computer Chapter, current IEEE HK Section CityU Student Branch Counselor.
Dr. Patrick HUNG, PhD, Stanford University
Founder of IC companies in HK and Silicon Valley, CALAS Co-director
Dr. Patrick Hung received his BSc degree in Electrical Engineering from the University of Hong Kong, and MSc and Ph.D. degrees in Electrical Engineering from Stanford University. His research interests include high performance and low-power computing architectures. He has continuously given support and advice to our team for years. He was previously consulting faculty at Stanford University and is currently co-director of the joint laboratory between Stanford Computer Architecture & Arithmetic Group (SCAAG) and Shandong Academy of Information and Communication Technology (SAICT).